At Suminter, it's all connected. Our methodology begins with our farmers. In our integrated approach, we begin by offering organic & natural certification and training to our farmers. Through our certified sources and under the guidance of our ground level force, we ensure a supply chain of quality organic & natural goods. We pay our farmer partners a premium over market prices and subsequently make agriculture a viable option for them. To make the process of procuring and marketing our goods as efficient, transparent and fair as possible, we have integrated each crucial step into our working business model.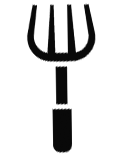 Without our farmers, we cannot move forward. Our successful model starts with forging strong relationships with local farmers – by recruiting them through local organizations and our own field officers. But sometimes, farmers find us through word-of-mouth in their communities and proceed to participate in our training and certification program. Once they complete the program, they have the option to sell organic & natural crops to Suminter at a premium, or in the local markets at conventional prices. We source most of our top-quality ingredients directly from small producers who are committed to organic & natural farming and fair trade conditions.
Suminter does not provide direct financial assistance to the farmers. However, what we do provide are quality inputs – including organic seeds, bio-fertilizers and bio-pesticides – to encourage organic & natural farming practices, increase farm yields, and maintain high standards of the final product. We strive to make our farmers empowered, not dependent.
The process of converting a conventional farm to a certified organic & natural one is a three-year process. During this time, Suminter trains the farmers in organic & natural farming techniques and assists them in selling the interim crops in conventional and Fairtrade markets. This allows the farmers to benefit from our broad market exposure while getting paid a fair price for their goods, as promised.
Once a farm is certified organic & natural, its produce can be sold at organic  & natural premium prices in the marketplace. We're constantly in the process of certifying farmers and we have certified over 80,000 farmers.


Quality is important to us. But more than that, maintaining the high quality of products that our customers have come to expect is imperative. We keep strict checks on quality by maintaining a relationship with our farmers throughout the growing season. We offer them access to new knowledge of organic & natural processes and ensure that crops are grown in compliance with organic & natural standards.
We take our quality checks seriously. Suminter has over 100 field officers on the ground who visit each farm at least twice a month, and our project supervisor personally visits each farmer once every cropping season. These regular visits ensure that our internal control system runs efficiently and systematically. We take a very active role in critical decisions which may affect the quality of the products – from determining what type of seeds are planted or which organic & natural techniques will be used to which bio-pesticides will be used in which farm.
Upon harvest, crops that require processing are sent to Suminter's processing plants. These internationally organic-certified facilities process and package the produce according to our strict specifications. The processed goods are then transported to Suminter warehouses, located in the states of Gujarat and Maharashtra.
Over the years, Suminter has worked hard to bring the latest processing technologies to the organic & natural food arena. We've overhauled and developed various in-house processes, and have partnered with leading global companies for seamless production. Interested in knowing more about processing and packaging facilities? Take a look at our Operations page.

Quality Control and Traceability

When it comes to quality, safety, and innovation, we make no compromises. We make sure that not only do our products match global quality standards, but exceed them.
We frequently test product batches carefully to ensure that they're meeting rigorous global organic & natural standards. All products sourced from new producers are tested carefully, while we continuously randomly test products from our existing suppliers. We also maintain a detailed database and tracking system of our products at every harvest season. We carefully track where we sourced each order, so when a customer has a question about the source of a Suminter product, the origin of each product can be easily traced.
Suminter's strength lies in its reach, and in its ability to sell products to retailers and manufacturers worldwide. This step is what ultimately bridges the gap between Indian farmers and global consumers. Our sales representatives work tirelessly to ensure that each order is dispatched promptly and accurately; exporting goods swiftly from our warehouses in India and the Netherlands to our customers around the world. Being small enough to satisfy individual requests yet big enough to guarantee product safety, Suminter has one goal – to deliver good quality product each time.